Note: The ranking is based on the Ranking Web of Hospitals by CSIC
Source: http://hospitals.webometrics.info/en
10.Chong Hua Hospital
Chong Hua Hospital is a hospital in Cebu City, Philippines. It is a non-stock, non-profit organization, owned and managed by Asociación Benévola de Cebú.
It was the first hospital in the Visayas and Mindanao and 3rd in the country to be accredited by Joint Commission International in 2009, an international agency that sets international standards based on the quality and safety of patient care.Chong Hua Hospital is no longer accredited by Joint Commission International by 10 July 2015.
Chong Hua has 660 bed capacity and is located near the Fuente Osmeña Circle, a city landmark
Address: Don Mariano Cui, Cebu City, 6000 Cebu
Phone: (032) 255 8000
9.Manila Doctor's Hospital
Manila Doctors Hospital (MDH) is a premiere private tertiary hospital operating at 667 United Nations Avenue, Ermita, Manila, Philippines. It was founded in 1956 by a group of doctors, under the corporate name Manila Medical Services Inc. (MMSI). In 1979, Metrobank Foundation, Inc. (MBFI) acquired majority shares of MMSI.
Located along United Nations Avenue in the old business district of Metro Manila, which is also considered the tourist district of Manila, MDH is a stone's throw away from Chinatown. It has entry and exit points on both United Nations Avenue and Teodoro M. Kalaw Avenue. Its T.M. Kalaw façade faces the Department of Tourism and the eastern side of Rizal Park.
MDH operates only in the Philippines, but it serves many international clients and plays an active role in promoting medical tourism in the country.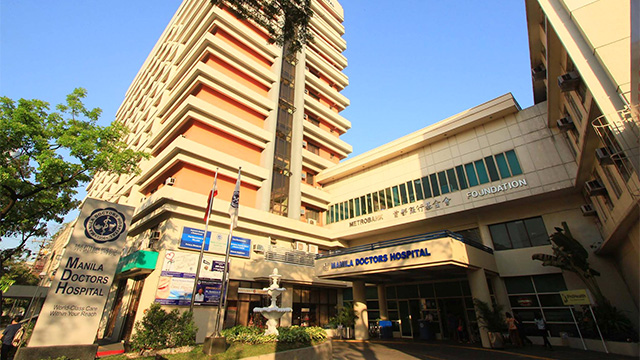 Address: United Nations Ave, Ermita, Manila, Metro Manila
Phone: (02) 558 0888
8. Philippine General Hospital
The Philippine General Hospital (PGH) is a tertiary state-owned hospital administered and operated by the University of the Philippines Manila, the University of the Philippines System's Health Sciences Center. It is the largest government hospital administered by the university, and is designated as the National University Hospital. It is located at Ermita, Manila in the Philippines. It is the biggest hospital in the country with a 1,500-bed capacity. It is a mixed-use hospital, with 1,000 beds for indigent patients and 500 beds for private patients, and offers some of the lowest rates for patients and is generally known as the hospital for indigent patients.
The PGH, being the largest training hospital in the country, is the laboratory hospital of health science students enrolled in the University of the Philippines. This includes students of medicine, nursing, physical therapy, pharmacy, occupational therapy, dentistry, and speech pathology.
PGH celebrated its centennial in 2007, one hundred years since the US government passed a law establishing it. The hospital has seen the worst of tropical epidemics during its early existence and the worst of the war in the 1940s. It is one of the very few Philippine hospitals that remained open all throughout the war.
At present, the hospital has a bed capacity of 1,500 and around 4,000 employees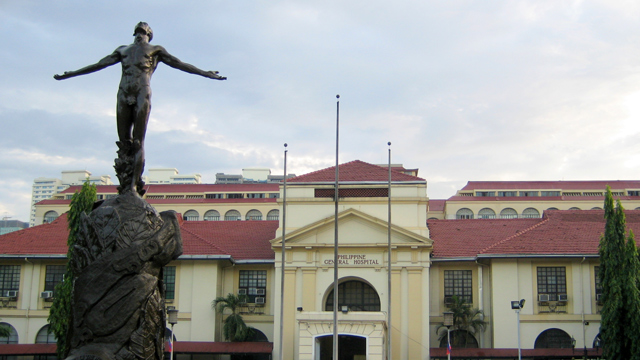 Address: Taft Avenue Ermita, Brgy 670 Zone 72, Manila, 1000 Metro Manila
Phone: (02) 554 8400
7.Davao Medical School Foundation, Inc
The Davao Medical School Foundation (DMSF) was established in July 1976 in response to the recognition of the lack of doctors serving rural communities and lack of specialist in urban centers of Mindanao. Its College of Medicine was thus the first such college to be set up in Mindanao and is dedicated to providing medical education and training of the highest order, leading to the provision of effective medical care in both rural and urban communities.
A consortium, the members of which are the Ateneo de Davao University, Brokenshire Memorial Hospital, the Development of Peoples' Foundation, San Pedro Hospital and San Pedro College, operates the Foundation. It is registered with the Securities and Exchange Commission (SEC) as a non-stock, non-profit organization and is approved by the Commission on Higher Education (CHED). In addition to the College of Medicine, DMSF operates a College of Dentistry, an Institute of Primary Health Care (IPHC) and a Center for Education, Research and Development in Health (CERDH).
The school is located on a 2.5 hectare site close to the center of Davao City, which boasts of a stable climate, both in terms of its weather and its politics. There are five universities within the boundaries of the City as well as several schools and colleges. Students are affiliated to the Davao Medical Center, the Davao Doctors Hospitals , San Pedro Hospital and Brokenshire Memorial Hospital for their clinical rotations in the third and fourth years of their courses.
There are some 125 Faculty members drawn from a wide range of medical specialties and the total student population of all four years of students is usually around 300.
Its unique geographic location, the peace and order, and political stability of Davao City and Region XI has made DMSF an attractive option of foreign medical students. To date there are some 20 foreign medical students at various years of schooling.
Address: Bajada, Davao City, Davao del Sur
Phone: (082) 226 2344
6. Manila Genitourinary Clinic
In the 70`s, the clinic was originally operating as a community out patient, medical and surgical unit. Most of the patients at that time were Filipino families wishing to migrate to Canada.
This made way for the birth of an in house diagnostic facility. Asymptomatic emigrants with excessive white blood cell (WBC) in their urinalysis were easily managed and therefore the process for immigration was faster.
By the mid 70`s, patients with urinary and pelvic symptoms (UPS) began to come in because of the conveniences of a quick diagnosis followed by a more objective, monitored treatment
In the 80`s Patient with UPS increased to more than 60 visitations per day. Soon after recruitment of more doctors also followed. This allowed plenty of room for learning. A training program was also realized. The monitored diagnosis allowed both senior and junior physicians to observe that the tri-weekly drainage with monitoring of WBC count from the prostate showed more predictive WBC readings as compared to patients that were drained less frequently. More patients were being cleared from Prostatitis. Cure was based on what the patents told us at the end of the treatment, through letters, and from patents referred to us by previous sufferers.
Transformation of a community clinic to a Genitourinary Clinic
In addition to the Pelvic symptoms, sexual dysfunction i.e., erectile, ejaculation and infertility were also corrected. The protocol was found to also to relieve symptoms of men in urinary retention. Previously enlarge prostates was also seen to decrease in size. Women both young and old were also being referred because of recurring urinary tract infections, or UTI. Patients from other countries and fellow physicians also began to come in by this time. With more variations in the patients respond to treatment improvement in diagnosis was imperative. Objective identifications of different pathogens were added into the diagnostic facility of the clinic.

Address: 3rd Floor Unit 2 Maga Center Building, Paseo de Magallanes Commercial Center, Magallanes Village, Santiago St, Makati, 1232 Metro Manila
Phone: (02) 852 5018
5.The Medical City
The Medical City (TMC) is a tertiary care hospital in the Philippines with over forty years experience in hospital operation and administration. Its world-class health care complex serves some 40,000 in-patients and 400,000 out-patients annually. TMC has a medical staff of over 1,000 physicians who are established experts in their various fields of specialization. This core of professionals is complemented by a 2,200-strong human resource complement, engaged in allied medical, administrative and support services.[1]
At the heart of TMC's service philosophy are new paradigms of hospital care addressing the entire continuum of health needs, and the patient as an equal, informed and empowered partner in the pursuit and preservation of health. TMC is accredited by the Joint Commission International (JCI), the world's most prestigious accrediting body for international health care organizations.
Address: Ortigas Avenue, Pasig City, Metro Manila, Philippines
Tel. Nos. (632) 988-1000, (632)988-7000
4.Asian Hospital and Medical Center
The Asian Hospital and Medical Center, established on March 15, 2002 with Jorge Garcia, MD, an alumnus of the Faculty of Medicine & Surgery of the University of Santo Tomas, as its founding chairman, is the first private tertiary hospital built in the southern part of Metro Manila. It currently stands on a land area within the vicinity of Filinvest Corporate City, Alabang, Muntinlupa, Philippines, measuring 17,258 square metres (185,760 sq ft) that both includes the main hospital building and the hospital's medical offices.
Address: 2205 Civic Dr, Alabang, Muntinlupa, 1780 Metro Manila
Phone: (02) 771 9000
3.Makati Medical Center
Valuing lives and providing premium and personalized healthcare services is the promise and commitment that makes Makati Medical Center (MakatiMed) the premier hospital in the Philippines for over 45 years.
Located at the heart of the country's primary central business district, MakatiMed with 600-bed capacity delivers quality and compassionate service through its highly skilled and board-certified physicians, compassionate nurses, competent allied healthcare professionals and management staff, modern facilities and state-of-the-science medical equipment and technology.
MakatiMed is committed to deliver best practices in healthcare, stringent safety standards and excellent patient care. We are accredited by the Department of Health (DOH) and PhilHealth's Benchbook of standards as a Center of Excellence, and is accredited as a Mother-Baby Friendly Hospital under the Mother-Baby Friendly Hospital Initiative (MBFHI) program of the DOH, the United Nations Children's Fund (UNICEF), and the World Health Organization (WHO).
We are also accredited by international certification body, Joint Commission International (JCI), a public acknowledgement of our world-class services and our continued dedication to superior patient care.
MakatiMed remains to be the Hospital with a Heart.
Address: No. 2, Amorsolo St., Legaspi Village, Makati City, Makati, 1229 Metro Manila
Phone: (02) 888 8999
2.St. Luke's Medical Center (SLMC)
St. Luke's Medical Center (SLMC) is a tertiary referral hospital located in Quezon City and Bonifacio Global City, Taguig, Metro Manila, Philippines. It was founded by the Protestant Episcopal Americans in 1903 as the second American and Protestant founded hospital in the Philippines.
The St. Luke's Medical Center in Quezon City is located at Cathedral Heights. The hospital accommodates 652 beds, and is hosts 10 institutes, 13 departments, and 22 "Centers of Excellence". Adjacent to the hospital proper are the Medical Arts Building and the twin towers of the Cathedral Heights Building Complex, where over 2,000 hospital-affiliated medical consultants see out-patients in more than 450 private clinics. Also within the complex are a five-story parking building, six restaurants, ten apartelle units for out-of-town families of patients, 14 residential units at the top floor and the St. Luke's College of Medicine – William H. Quasha Memorial. The hospital is especially active in cardiovascular medicine, neurology and neurosurgery, and cancer.
In 2003, the hospital was accredited by the Joint Commission International becoming the first hospital in the Philippines, and second in Asia to receive the accreditation.
Address: New Manila, Quezon City, Metro Manila
Phone: (02) 723 0101
Source: https://en.wikipedia.org/wiki/St._Luke%27s_Medical_Center
1.Philippine Heart Center
The Philippine Heart Center in Quezon City was established through Presidential Decree No. 673 issued by President Ferdinand E. Marcos in 1975. Its original name was the Philippine Heart Center for Asia and was changed to its current form in 1975. It was inaugurated on February 14, 1975. Cardiovascular specialists including Christiaan Barnard, Denton Cooley, Donald Effler, and Charles Bailey practised there.[citation needed] The first Director of the PHC was Avenilo P. Aventura (1974-1986), a cardiovascular surgeon who performed many pioneering operations in the Philippines including the first successful renal transplantation in 1970, the first CABG in 1972, and developed and implanted the first ASEAN bioprosthesis, the PHCA porcine valve. The first patient to be admitted to the PHC was Imelda Francisco, on April 14, 1975.
Address: East Avenue,Quezon City 1100,Metro Manila
Telephone Number: (02)9252402 / (02)9252402 / (02)9252401

 On the other hand, for travel seekers, click the link to see some of Ireland's tourist destinations!